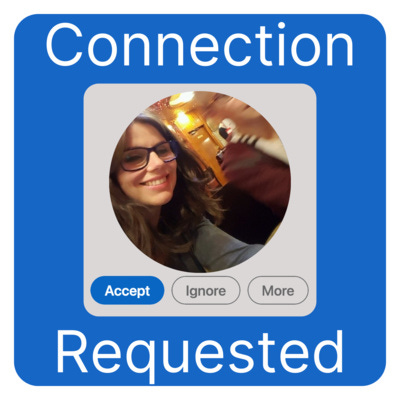 Sep 8, 2021 • 6M
Siwan Menez - Connection Requested
Episode 3.
"Who are these people sending me connection requests on LinkedIn?" That's the thought that started this podcast. Closely followed by... "Who are the people I have already connected with?" Join me as I find out who they all are through the stories they tell, not by their bio or job descriptions. Listen and connect with me, Mark Tweddle co-founder of YouTellYours.com Find me on LinkedIn: https://www.linkedin.com/in/marktweddle/ Sign up for the Connection Requested Newsletter @ connectionrequested.com Music: https://www.asdrusierra.com/
Humans connect with storytelling. The stories in this episode will help you connect with:
Siwan Menez
https://www.linkedin.com/in/siwan-menez-284a305b/
Caption Video:
Transcript:
Welcome to the Connection Requested Podcast. I am Mark Tweddle co-founder of You Tell Yours where we create online events to help your team show up fully
I don't know about you, but I rarely know the people who request to connect with me on LinkedIn. A LinkedIn connection should be more than just the permission to send me marketing content. I'd like my LinkedIn connections to be more meaningful and closer to the connections that I make in person.
And the best way I know to create that connection, that understanding, is through the storytelling exercises that we developed for our team events. As ever, I don't want to talk too much because I want all these episodes to focus on listening to the guest. So let's jump right in with the guest's named story.
Two minutes to tell the story of your name with no preparation.
No one else can tell that story better than you. You are the subject matter expert after all.
Siwan is my name and it's a Welsh name and it comes from the 13th century, 12 something, something and Siwan was called Juwan.
She was a French princess, a daughter of King John living in the south of France. And she was married when she was 10 years old to Llywelyn the Great, the Prince of Wales .And so she came to Wales when she was about 12, 14, she, started a relationship with Llywelyn the Great as his princess.
And I was named after the play that Saunders Lewis wrote about her life. So Saunders Lewis is the best play rights in, in Welsh and But the play is about that relationship where she has an affair with a French prince so he is killed by Llywelyn as a because you know, he slept with his wife and, and then she's put in the cell for a year. And then they come back together for political reasons, in order to sort out something, diplomatic with King John her father.
And during that conversation of her talking to him after coming out from the cells, why did you have to kill him in that way? But you didn't love me anyway. I was only 10 when we were married, et cetera. So that's the story of Siwan.
Menez. Isn't my real name. Menez. It means mountain, in Breton and I just love mountains and I love Brittany and the Breton language. So that's my name.
Thanks, Siwan. There was a lot of history in her story, and yet she's still included, and ended, on the subject she loves. Sometimes when telling the story of their name, people can get so caught up in the details and what other people have told them that is important about their name, that they forget to include themselves. So I'm glad Siwan, managed to get back to what was important to her.
Before we get to the next story exercise. I want to include something that Siwan said, that I think is really relevant and useful for anyone struggling to tell their stories.
Yeah, cause I tell you what was happening in my head. Whenever someone asks me to tell my story, my mind immediately jumps to the darkest things ever. I've got...
Well, I can't say that. I can't talk about that. You know? So, so I'm, I'm there, I'm trying to think of something light. Something (laughs) Think of something funny.
Often, and I'm not exactly sure why, but we're drawn to tell the most traumatic or deepest, darkest stories. Maybe it's we feel we have to have the biggest plot point to our story or, or like it's a performance. We are somehow in competition with a Michael Bay car chase. But when we do storytelling for connection, it, it doesn't need a big plot. We are listening to hear who you are. And to try to understand how you experience the world. It's as if we're trying to spend a couple of minutes standing in your shoes, looking out through your eyes. And that's enough. You are enough. There's no need to tell a story that you're uncomfortable telling.
And with practice, you'll get more and more comfortable and familiar with all of your stories, the parts of them that you feel happy to share. So let's get back to Siwan and a two-minute story, starting with the three words " On Sunday I".
On Sunday I, in the past, I've been a bit lost because I like my structure and I like knowing like this is how I work. So even though it was a Sunday, I open up my electronic calendar and see what I need to do and go through, go through my, to-do list. That says something about my character, I think.
But these days on Sundays, I have a zoom circle, 11 o'clock every day for the embodiment conference. Which is an online conference, which has been now, but it's possible to buy the recordings. And so every Sunday I have a circle of people, I do the Welsh language one, where we discussed life and meditate a little, move a little, and, and learn about ourselves together.
It's been a really good experience for me and for everyone else there. And especially since it started right at the beginning of lockdown in March, and it's been going every Sunday since then. So yeah, that's what I do like Sunday mornings and then my children are allowed to come out! (Laughs) Come downstairs after that, after that's finished, by the time that time they're hungry and we just eat whatever we can and then cook together a meal for the evening.
So that's my usual Sundays when the children are here, but their father and I divorced, so they go to their father every other Sunday. And then on those Sundays, I manage to get things done really. Yeah. I, on Sunday evenings, I usually watch detectives. And then when there's an advert, I run around and do my housework
Thanks, Siwan. Do you now feel that you're getting to know Siwan?
If you looked at her LinkedIn profile right now and you needed her services or advice. Would you be comfortable, more comfortable, having a call with her? I do hope so. If nothing else, I hope that you've learned that Siwan Menez is awesome.
Please share this podcast. Preferably on LinkedIn. And keep on having fun, making the best of connections.
and of course, SUBSCRIBE!!!